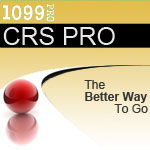 For more information, please
contact Michael Stewart at ms@1099pro.com.
CRS Software: Common Reporting Standard
Versions
Single User*
$1099.00

2 to 5 Users*
$1499.00

Unlimited Users*
$1899.00

CRS Pro Software Features
Unlimited filing entities
1,000+ accounts / records
Single, multi (2-5), or unlimited users
Account importing from Excel, tab, csv, or manual entry
Summary totals reports by entity
Customizable reports & data filters
XML file generation per the OECD CRS XML Schema
Common Reporting Standard & Automatic Exchange of Information
In October of 2014, the UK and 50 other countries from the Organisation for Economic Co-operation and Development (OECD) signed up to the Common Reporting Standard (CRS), as requested by the G20.

The CRS requires jurisdictions to obtain account information from their financial institutions and automatically exchange that information with other jurisdictions on an annual basis.

This reporting process expands on the OECD's work on the Automatic Exchange of Information for Tax Matters (AEoI) and is currently supported by 100 jurisdictions - see AEoI Commitments.
CRS Reporting Framework
The Common Reporting Standard (CRS) is best broken down into 4 key sections that are listed below:
See 1099 Pro's FATCA 8966 Reporting Software for FATCA related software & information.
Lastly, the Organisation for Economic Cooperation and Development (OECD) has released an unofficial
CRS Implementation Handbook
that helps detail CRS definitions, due diligence processes, and reporting requirements.
CRS Reportable Entities & Accounts
CRS Reporting requirements are vastly different and more complicated than other models (i.e FATCA) as there are many more jurisdictions involved. However, the basics are:
Identify if the entity is a reporting financial institution.

The information being reporting must belong to an entity (legal persons or legal arrangements), the entity must be in a participating jurisdiction, the entity must be classified as a Financial Institution (FI), the entity must not be categorized as "non-reporting" by its tax jurisdiction.

Review the FI's accounts and determine which accounts are reportable.

Generally, reportable financial accounts to be reviewed are: depository accounts, custodial accounts, equity & debt instruments, & cash value insurance contracts and annuity contracts.
Generally, non-reportable financial accounts are: retirement and pension accounts, non-retirment tax favored accounts, term life insurance contracts, estate accounts, escrow accounts, depository accounts due to not returned over payments, and other low risk excluded accounts.
CRS Due Diligence & De Minimus Thresholds
CRS reporting requires due diligence on existing accounts, classification of accounts in terms of pre-existing or new, and application of de minimus thresholds:
Due Diligence Deadlines:

December 31, 2016 - Identify high value individual accounts (>$1m).
December 31, 2017 - Identify entity accounts and low value individual accounts.

Account Classification:

Pre-Existing - Accounts opened on or before December 31, 2015.
New - Accounts opened on or after January 1, 2016.

De Minimis Thresholds:

Pre-existing entity accounts, less than $250,000, fall under the de minimis thresholds.
No other de minimis thresholds!
CRS Reporting Deadlines & Jurisdictions
Deadlines for reporting CRS information vary by tax jurisdiction and thus must be monitored closely for any additions or changes. In general, the exchange of information is slated to begin in September of 2017 and the OECD provides jurisdiction-specific information here.
CRS Professional Software: The Ultimate Common Reporting Standard Software, CRS Reporting Software, & AEoI Software for CRS Reporting & XML Filing.
1099 Pro: Support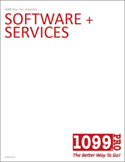 1099 Pro offers industry leading support via phone, email, live chat, remote computer connection, and video walkthroughs. 1099 Pro's experts can assist with anything from installations, importing, network troubleshooting errors, data retrieval, printing/mailing, electronic filing, or simply finding out which software or service is best for you!
Standard Hours: M-F, 5am - 5pm PST
Additional Hours: Sat/Sun, 8am - 12noon PST in January
1099 Pro General: (888) 776-1099,
sales@1099pro.com
1099 Pro Service Bureau: (866) 444-3559,
sb@1099pro.com
1099 Pro provides secure and intuitive FATCA Form 8966 software capable of tax form management and IRS XML reporting. FATCA 8966 Pro is capable of:
Bulk data importing or manual entry
Form 8966 PDF Generation
GIIN Validation
XML file generation
IDES Packaging
Corrections Filing
Bulk TIN Checking is an essential compliance and risk mitigation service that identifies TIN/Name mismatches prior to filing with the IRS. Penalties can be assessed at up to $100/record at the IRS's discretion.
Submit files directly from software *NEW*
Bulk files of up to 100,000 records per file
SSAE 16 SOC I Type II secure environment
1042-S Pro provides business rules & IRS validations upon data imports and form entry to help ensure proper 1042-S filing. 1042-S Pro is capable of:
Bulk data importing or manual entry
Form 1042-S PDF Generation
Form 1042-S Alternate Combined Layouts
TIN/GIIN Validation
IRS eFile generation
Corrections Filing
Another great option to validate your TIN/Name and GIIN/Name combinations via individual checks or bulk! TINCheck.com is a straight-forward and user friendly resource; simply log in and instantly gain access to multiple verification sources in one place.
Complete list validation: OFAC, DMF, EPLS, LEIE, TIN/Name
Integrate an API/web service into an existing AP system for seamless verification of new vendors
FREE trial account - just click on "Register".
Requirements for Workstations:
Windows 2008/2008 R2/8/2012/2014/10
32 or 64 bit operating system compatible
Intel Pentium II/Celeron or AMD Athlon/Sempron/Turion (Minimum)
512MB or more preferred
1 GB free hard drive space
For use with ANY Windows compatible printer
Internet Explorer® 7.0 or higher (ASP.net only)
Requirements for Web Server:
Minimum of an Intel Xeon, i7 or equivalent
Processor Speed of 2 GHZ
Memory of 4GB or higher
MS .NET Framework 4.5
*Licensee is responsible for all Microsoft® licenses

Order Online
Order your 1099 Pro software the fast and easy way, online! Just click the Buy Now button next to the version of the software that you want and it will be added to your shopping cart.
When ordering online, you can choose to immediately download your software or have it delivered right to your door.

Phone in your Order Toll Free
Order the traditional way, by phoning in your order. Our sales staff is ready and waiting to take your order.
Toll-Free Sales: (888) 776-1099
Hours: M - F, 7 am to 5 pm (PST)

Fax or Mail in your Order
You can also place your order by fax or by following the instructions below:
Download our order form: 2016 ORDER FORM (197k,PDF)

Print the order form, fill it out in its entirety and select the products you want to purchase. To avoid delays, be sure to add appropriate sales tax and shipping for your area.
Fax your order to us at: (818) 876-0202

- or -

Mail your order form and payment (check, money order or credit card information) to:
1099 Pro, Inc.
23901 Calabasas Road, Suite 2080
Calabasas, CA 91302-4104